Sådan får du en ISBN-stregkode
Hvis din bog skal sælges hos boghandlerne, skal den have et 13-cifret ISBN-nummer (læs her hvordan du får det), og desuden skal dette ISBN være visuelt repræsenteret i en stregkode, for at boghandleren kan scanne bogen ind ved salg.
Benytter du en grafiker til at lave dit bogomslag, vil denne typisk klare det med stregkoden for dig, blot du leverer et ISBN.
Men du kan også selv – nemt og gratis – danne stregkoder ud fra dine ISBN-numre. Boghandlerforeningen har anbefalet mig dette link, så selvom det ser lidt hjemmestrikket ud, så er den god nok:
http://www.terryburton.co.uk/barcodewriter/generator/
Vælg ISBN i menuen "Symbology"
Indsæt dit ISBN-13 i feltet "Contents"
Og klik "Make Barcode", så får du nederst på siden mulighed for at downloade stregkoden i tre filformater: JPG, PNG og EPS.
OBS du skal vælge EPS-format når du skal bruge stregkoden til tryk! (EPS generer koden som ren sort farve, og står derfor langt skarpere end de to andre formater der benytter raster).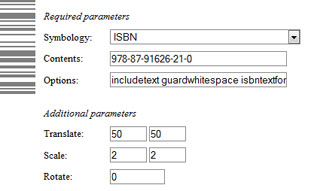 Hvis du vil, kan du allerede inde på siden justere på formatet, før du generer grafikken.
Note om æstetik: Stregkoder er ikke kønne, og du kan godt vælge at sætte den på din bogs omslagsflap, hvis der er sådan en på din bog. Undlader du helt at sætte stregkode på omslaget, så gør din boghandler det bare med et klistermærke i stedet, men det er trods alt bedre at have kontrol over det selv.
Tags: isbn