Udstil hos NewPub på Bogforum 2018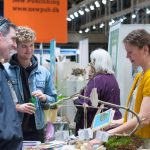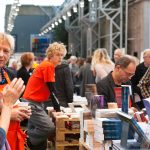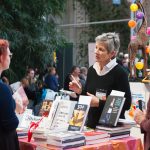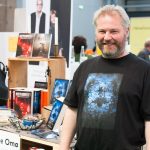 Om at deltage >> Standtyper >> Booking >> Betaling  // Se også:   Betingelser   Udstillere
Udstil på Bogforum 2018 – billigere og bedre, nemmere og sjovere
For tredje år i træk indtager NewPub-fælleskabet det helt centrale torv på årets Bogforum i Bella Center. Mikrostande kan lejes for bare én dag ad gangen, så alle har råd til at udstille. Vi har service og fællesskab der gør det hele meget nemmere og sjovere. Og i år er deltagelse i den store boghandel og vores fine katalog med i prisen. Så selv om du kun udstiller én eller to dage, så er dine bøger til salg under hele messen.
BogForum i Bella Center ligger tidligt i år – allerede 26.-28. oktober.
Hvem kan deltage:
Alle selvstændige forfattere og bogfolk (grafikere, redaktører, ghost writere, skrivecoaches osv.) samt mikroforlag kan leje stand. Du skal bare være medlem af NewPub. På næste side ("Standtyper") kan du læse om de to størrelser stande du kan vælge mellem. Nedenfor ser du en liste over meget af det som er inkluderet i din booking.
Når du på de følgende sider har booket og betalt sender jeg dig en pdf – "Guide til gode forberedelser…", om hvordan du kan (og bør) forberede dig til Bogforum, for at få godt udbytte af at deltage. Guiden er udviklet sammen med mange tidligere udstillere, og du bør læse den med det samme, nogle forberedelser bør påbegyndes i god tid.
Deadline for booking af stand er ca. 1. august. Men jo tidligere du booker, jo mere glæde når du at have af udstillerfællesskabet.
Det får du med som udstiller hos NewPub:
Stand der er møbleret med tæppe, bagvæg, disk (eur-paller), taburet og el (+ fri wifi)
Deltagelse i vores udstillergruppe på Facebook, hvor alle hjælper alle
Grundige guides til alle forberedelser (sendes som pdf'er)
2 stk udstillerpas/adgangskort til alle tre messedage
Omtale i Bogforums katalog (oplag ca. 40.000)
Portræt på Bogforums website og app
1/2 side i NewPubs eget trykte katalog, (1/1-side ved leje af 6 kvm stand). Oplag ca. 1000.
Dine bøger i vores flotte boghandel (alle tre dage)
Garderobe ved fællesarealet
Pressepakke med varieret pressemateriale til fri bearbejdning og brug
Mulighed for at købe invitationskort med rabat til dine gæster
Rabatter på messetryksager hos

Toptryk

grafisk (sponsor)
Mulighed for at deltage i vores festmiddag lørdag aften (selvstændig billet)
Deltagelse i det rareste fællesskab i bogbranchen – også gerne som frivillig :-)
Til juni inviterer jeg alle udstillere med i en særlig Udstiller-Facebookgruppe, hvor vi sammen planlægger, svarer på spørgsmål, løser problemer, og alt det gode samarbejde du kender fra NewPub i forvejen.
Følg de orange links øverst på siden for at tilmelde dig.

Læs mere her om at deltage – og spørg løs i de tilhørende tråde:
>> Tjek – om Bogforum 2018 er noget for dig!
>> At udstille med NewPub på Bogforum – en kort intro for alle nye
>> Om at forberede sig som udstiller
>> Info om at udstille – for dig som er grafiker, redaktør, ghost writer o.a.
Karsten Pers – 4. maj 2018
NewPubs fællesareal er igen i 2018 muliggjort med et sponsorat fra















Læs Artikler
Find Leverandører
Spørg på Facebook